Guy Fieri's Tournament of Champions Returns for Its Wildest, Most Unpredictable Season Yet
Season 4 premieres Sunday, Feb. 19 at 8|7c and streams on discovery+ the same day.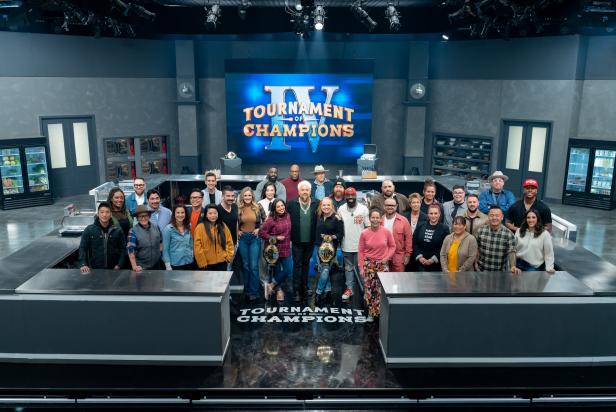 Host Guy Fieri with contestants Shota Nakajima, Tiffany Derry, Ilan Hall, Crista Luedtke, Jose Garces, Tracey Shepos Cenami, Viet Pham, Carlos Anthony, Mei Lin, Joe Sasto, Kelsey Barnard Clark, Maneet Chauhan, Shirley Chung, Eric Adjepong, Madison Cowan, Tiffani Faison, Jonathon Sawyer, Brian Malarkey, Tobias Dorzon, Stephanie Izard, Nate Appleman, Christian Petroni, Elizabeth Falkner, Karen Aukowicz, Antonia Lofaso, Britt Rescigno, Lee Anne Wong, Adam Sobel, Jet Tila, Graham Elliot, Darnell Ferguson, and Leah Cohen, as seen on Tournament of Champions, Season 4.
Guy Fieri's iconic culinary competition, Tournament of Champions, returns with a supersized fourth season on Sunday, February 19 at 8|7c. The skills and abilities of the most talented chefs from the East and West coasts will be pushed to the limit in the most difficult bracket-style culinary competition. This year's lineup features 14 tournament rookies who are on a quest to shake up the competition. The pressure is intense, and emotions are high as the elite chefs do not know who their opponents will be and what cooking challenges they will face, with the latter determined by the dreaded randomizer. This season, Guy has added a twist with randomizer wild cards that progressively get harder and harder in each round. Each battle will feature blind judging by a rotating panel of judges consisting of the biggest names in the food world as the chefs watch their critiques from backstage. For this year's finale Guy is pulling out the ultimate wild card by inviting a surprise judge who is one of the most respected and revered chefs in the world. After 8 weeks and 31 grueling head-to-head battles, one talented chef will win it all and be crowned champion, taking home the coveted Tournament of Champions belt and a $100,000 cash prize. Before the competition begins fans can look back at the Road to Tournament of Champions IV in an hour-long special on Saturday, February 11 at 11|10c on Food Network featuring the most outrageous randomizer combinations, the biggest victories, fiercest rivalries, and the most shocking upsets.
"Tournament of Champions is the most intense culinary competition ever created. We've got single-elimination, sudden-death, head-to-head blind battles and judging," said Fieri. "But of course, every year we've gotta up the ante, so we made the competition even more wild and unpredictable with the introduction of wild cards in every round. Get ready for some big-time surprises!"
The chefs representing the East Coast are: Eric Adjepong, Karen Akunowicz, Kelsey Barnard Clark, Maneet Chauhan, Leah Cohen, Madison Cowan, Tobias Dorzon, Graham Elliot, defending Tournament of Champions III winner Tiffani Faison, Darnell Ferguson, Jose Garces, Ilan Hall, Stephanie Izard, Christian Petroni, Britt Rescigno, and Jonathon Sawyer. The chefs showing off their chops from the West Coast are: Carlos Anthony, Nate Appleman, Shirley Chung, Tiffany Derry, Elizabeth Falkner, Timothy Hollingsworth, Mei Lin, Antonia Lofaso, Brian Malarkey, Shota Nakajima, Viet Pham, Joe Sasto, Tracey Shepos Chanami, Adam Sobel, Jet Tila, and Lee Anne Wong.
"Tournament of Champions is consistently Food Network's highest-rated series with nearly 11 million viewers at the edge-of-their-seats last season," said Betsy Ayala, Senior Vice President Programming and Development, Food Network "This season will not disappoint. We have some of the most impressive competition chefs to date, alongside some very talented fresh new faces. Don't expect to know who's going to win because this season it's truly anyone's game."
Simon Majumdar and Justin Warner deliver real-time play-by-play as all the action unfolds in front of a live audience. Hunter Fieri follows all the action backstage, capturing competing chefs' reactions as they watch the rotating panel of food icons blindly judge their dishes and learn who is moving ahead and who is going home. Judges include, Michelle Bernstein, Scott Conant, Cat Cora, Rocco DiSpirito, Lorena Garcia, Alex Guarnaschelli, Nancy Silverton, Daniela Soto-Innes, Ming Tsai, Jonathan Waxman, Andrew Zimmern, and one of the most highly regarded chefs to be revealed in the finale on Sunday, April 9 at 8|7c.